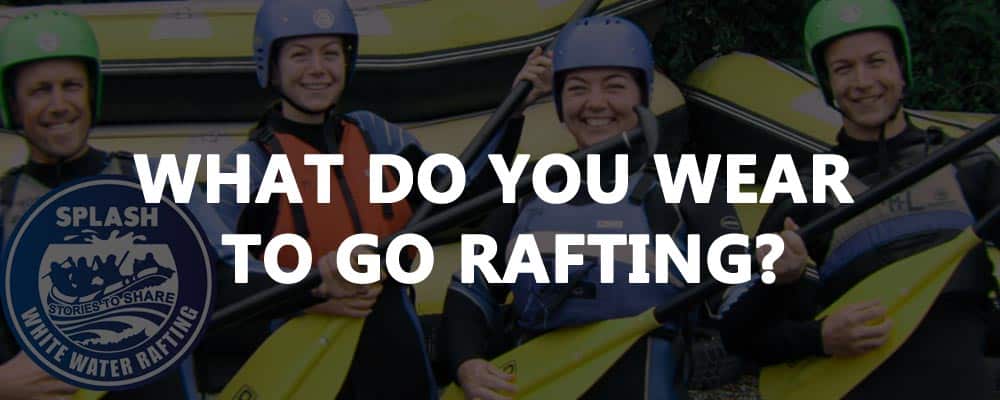 What do you wear to go rafting?
Bathing suit/ Swimming shorts – This is for under you neoprene wetsuit.
Clothing- Dry, warm clothing for changing into after your whitewater rafting experience.
Towel/Toiletries – Towel for drying yourself before changing into your warm clothing and toiletries as you may be going to the pub for food etc.
Sunscreen/Chapstick – If you are a burner, remember that the Scottish sun will be reflected off the water – Bring your factor 50+
Socks – For inside your shoes on the raft (no cotton) and a spare pair for after the rafting experience.
Water shoes – A separate pair of old shoes that you can get wet, we do have a selection of old shoes on site. But do recommend you bring your own.
Dry bag  – For medication etc – Our trip leaders carry otter boxes  (100% waterproof) and can take any vital medications etc on the river.
Waterproof camera – We provide free photography on all rafting trips but you are more than welcome to stick a Go Pro to our helmets to capture your trip.
Supplied by Splash White Water Rafting
Wetsuit – A neoprene rubber suit that will keep you warm on the river.
Helmet – A protective helmet specifically designed for water sports.
Buoyancy aid – This floatation device will help you stay buoyant if you find your self in the river.
Paddle – You are the engine and you will need your paddle.
Socks/ Gloves – Depending on the season weather and activity you may also be issued with Gloves or Socks.
What not to wear when you go rafting?
Cotton – No cotton, it swells and keep the cold water next to your skin, we recommend synthetic fibres and materials for rafting.
Jewellery – As your body heats up ( paddling hard) and cools down ( Entering the cool waters) your fingers etc can expand and contract, best to leave your jewellery in the car or in our office.
Electronics – Yeah I think this is self-explanatory.
Splash White Water Rafting
Dunkeld Road,
Aberfeldy,
PH15 2AQ,