A HAIKU BY A SEASONED TRAVELER By Kristen Gill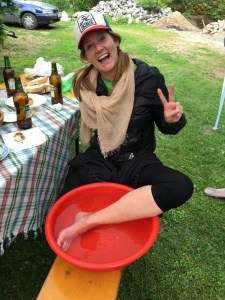 Why not break a leg
while traveling the Balkans?
I did, and then some
Bleak hospital is
something out of the '50s
or, maybe older
Stray dogs roam outside
while chickens run through the yard
i hop in wheelchair
And pass the smokers
hovering outside the door
to get in long line
So many people
waiting for socialized care
while I pay cash NOW
Doctor Dragon asks,
"Does this hurt?" "Hell, yes!" I said.
"You get X-ray now."
Lie on cold steel bench,
no lead apron for safety
watch as rays loom close
Unrolling the film,
he said with a smile "It broke."
"You go get cast now."
Men talk urgently
in a language i do not
understand. Help me!
Jazz on radio
dirty knife lies next to me
I cannot watch this
Papier-mâché wrap
goes all the way past my knees
Did not expect this!
Coptic church outside
I go in and light candles
prayers might help me now
Back to quaint hotel
where sweet proprietress gives
me dog for healing
Four border crossings
plus fifteen flight hours back home
and I am a wreck
Six more months in cast
then I will soon be able
to travel again
Note from author: The funny thing about this story is that for the five days previous to breaking my leg I had been doing all sorts of adventurous activities such as rock climbing, hiking the second tallest peak in the Balkans, kayaking, spelunking, and more. But how did I break it? By running in my flip flops to get into the final group photo on the trip. DOH!
KRISTEN GILL
PHOTOGRAPHY + TRAVEL + WRITING

Featured As A Travel Expert On MSN, CBS Travel, Peter Greenberg